Alpha Pro 100 – ID Card Printer
$1,698.00
Sale!
Alpha Pro 100 – ID Card Printer
$1,698.00
An affordable starter bundle, the AlphaCard PRO 100 ID Card System makes it easy to design and print professional cards. Combined with basic ID software and premium supplies, this complete system includes everything you need to print your first 100 cards.
Designed for low volume printing, the PRO 100 uses a hand-fed process that prints professional quality cards on-demand. Simply insert each card into the front of the printer; within seconds the printed card will be returned through the same slot.
Great for small offices, the PRO 100 features a compact footprint that saves desk space. Equipped with an LED status screen and a Microsoft-certified plug-and-play driver, you'll be surprised at how intuitive it is to set up and start printing cards.AlphaCard PRO 100 Key Features
Printing Capability: Single-sided
Print Technology: Dye sublimation with AlphaGuard watermark
Print Speed: Full color cards in 35 seconds, monochrome in 7
Input/Output Hopper: Single feed
Connection: USB
Warranty: 3 years with Pro-Xchange
Flexible & Efficient Card Printing
The PRO 100 printer uses dye-film ribbons which are available in a variety of options, giving you flexibility. Included with this system is a full color 100-print YMCKO ribbon which contains an overcoat panel to seal in each card as an extra layer of protection. PRO series black monochrome ribbons are available with or without an overcoat panel. There are also monochrome ribbons available in a variety of colors including metallic finishes and a specialty ribbon for creating scratch-off panels.
AlphaGuard Watermark Technology
The built-in AlphaGuard technology allows you to add a hologram-like watermark over your printed card without any additional supplies. The watermark can be seen when light is reflected off the card and won't interfere with your printed card design. This added layer of visual security makes cards harder to tamper with or duplicate.
23 in stock
Description
Alpha Pro 100 – Single Side ID Card System – Compact w/100 cards and Security Features
Additional information
| | |
| --- | --- |
| Weight | 155 oz |
| Dimensions | 269 × 213 × 231 mm |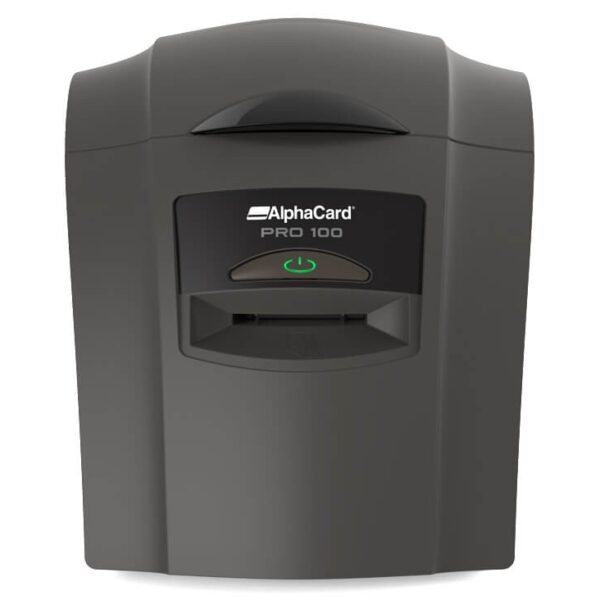 Alpha Pro 100 – ID Card Printer